We obsess over all sorts of things.
Right from our flour's protein content and how our hand-built ovens are constructed, to scouring Europe for just the right tomatoes & cheese. If we're not happy with supply, we figure out how to make it in-house.
It's all about that base!
Our sourdough base is made from 100% natural flour, free from additives & enzymes. It is cold fermented for 24- 48 hours to make it light, airy & develop flavour. Thin in the middle with a puffy & charred outer edge, classic neapolitan.
San Marzanos, flown in from southern Italy
The robust tomato sauce is made using a generations-old Italian family recipe. Combining lush San Marzano tomatoes and vibrant herbs for a delicate balance of sweet and tangy.
Made with love by our skilled pizzaiolos
Hand stretching high-hydration sourdough is no easy feat. And neither is operating the custom-built eucalyptus wood-fired brick ovens at 400ºC. Our pizzaiolos are truly dough masters.
Moos your daddy.
A separate note on cheese. Because cheese deserves it. As does the Italian cheese master who supplies the outstanding Fior Di Latte and Burrata we use. We ship Parmigiano from Italy, Feta from Greece and Ricotta from our own kitchen!
Now, the vegan cheese, also made in-house. Take a look.
Signature Stuffed Garlic Bread
Stuffed with a duet of caramelised onion & mozzarella, this unique garlic bread was created by the founder-brothers in 2017 and became an instant hit across town. Ever since, many have tried to recreate the closely guarded recipe. But, if you're looking for the original, you've come to the right place :)
Our Pizza Experiences: In a word, elevated!
Burrata
Picture a warm, crusty pizza, on which a ball of fresh, buttery Burrata sits. Slice through and watch its soft centre ooze onto that base.
Flambé
Not a technique you'd associate with pizza. But when that dark rum burns, you're going to dive right in. Executed tableside, guaranteed to impress.
Chilli Honey Dip
Blistering byadgis are perfectly balanced with a medley of raw honey. Slow-cooked and fermented to extract maximum flavour.
Popo's Veggie Delight
Bell pepper, black olive, sun-dried tomato, zucchini, jalapeño, feta, micro greens, mozzarella
Chicken Pizzaiola
Roasted chicken, sriracha aioli, black olive, red paprika, sun-dried tomatoes, mozzarella, parmesan
Butter Garlic Chilli Prawns
Served with our home baked focaccia
Fried Sourdough Bites
Dusted with our in-house spice blend & served with spiced garlic aioli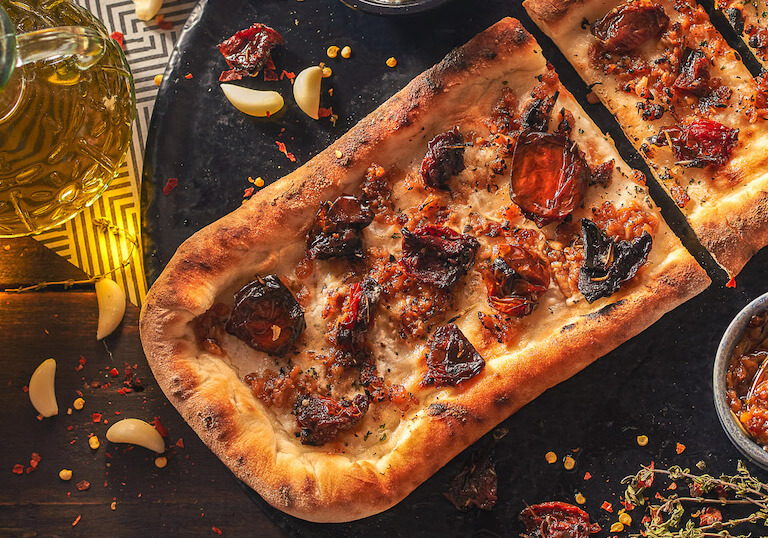 Vegan Garlic Bread with Sun-dried Tomatoes
Our signature sourdough, topped with homemade coconut cheese & confit garlic. Vegan deliciousness!
Vegan Sicilia
Bell pepper, roasted oyster mushroom & red onion with basil pesto and sun-dried tomatoes
The Hellboy
(inspired by Paulie Gee, New York) Pepperoni, crispy bacon, fermented chilli honey, birds eye chilli, jalapeño, mozzarella
Mac & Cheese with Bacon
A creamy combination of tender macaroni & saucy cheddar cheese